Now that it's time to pick your Spring nail colors for your pedicure, it's also time to lighten up the shoe selections as well. Bridal shoes have evolved since the dye-it-to-match-the-bridesmaids days (thankfully!), but color is showing up everywhere. So if you're classic white or would like your touch of blue to peek out from your dress, you're all set this season. 
And don't discount the flats! Especially if you want to change into a pair of dancing shoes after the ceremony. Just have your planner tuck a pair under your table and change after you've bustled your dress. No one will ever be the wiser!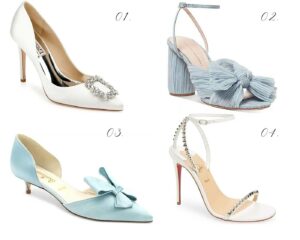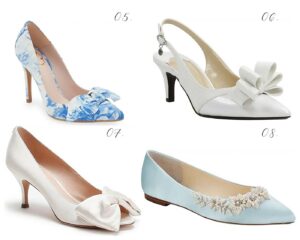 01. Badgley Mischka, Cher Crystal Embellished Pump
02. Loeffler Randall, Camellia Bow High Heel Sandals
03. Something Blue, Cliff Bow d'Orsay Pump
04. Christian Louboutin, So Me Studded Sandal
05. Ted Baker, Ryanah Bow Pointed Toe Pump
06. J. Renee, Gabino Slingback Pump
07. kate spade, Crawford Peep Toe Pump
08. Bella Belle, Daisy Embellished Ballet Flat
My blog uses affiliate links and ShopStyle Collective; a service operated by ShopStyle that allows participants to earn money by featuring links from ShopStyle's retail partners in their blogs, websites, and other applications.